---
---

PDF Installation guide for wall mounted waterfall kits: (888)-832-2242 

Sunrise Springs Indoor Wall Water Fountain Waterfall
Horizontal Wall Mounted Water Feature
*  52" Wide x 35" High x 6" Deep
*  EZ install bracket makes set-up simple
*  3-way pull chain allows you to control just the lights
   or the waterfall, both, or turn the water feature off.
*  The welded plastic liner is double tested and prevents
   against leakage.
*  A uniquely designed water distribution unit system won't
   clog, thus giving you even water flow.
*  Only one cord plugs into the wall and is easily concealed
   behind the water fountain with a 90 degree plug.
*  Durable powder coat finish on all of our painted metal trim.
*  Fully contained.
Includes:
*  Hardware to hang on a sheetrock wall
*  Halogen Lighting and 4 bulbs
*  Polished River Pebbles
*  EZ Installation DVD and printed instructions
*  Electric pump
Weights:
Water Surface Hanging Weight - Shipping Weight
Slate 255 lbs - 270 lbs
Marble 255 lbs - 275 lbs
Travertine 255 lbs - 275 lbs
Mirror 130 lbs - 200 lbs
FeatherStone 100 lbs - 165 lbs
Weights are approximates. Due to all stones being natural, they will vary in weight.
MADE IN THE USA 

Black FeatherStone
Black Spider Marble
Bronze Mirror
Green FeatherStone
Green Slate
Magnifico Travertine
Multi-Color FeatherStone
Multi-Color Slate
Rainforest Brown Marble
Rainforest Green Marble
Silver Mirror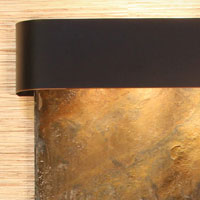 Blackened Copper
Rustic Copper
Stainless Steel
Rounded
Squared
Upgrade Options (Prices In USD - Phone or email to add extras for a separate quote)
---