---
---
Inspiration Falls Wall Water Fountain



PDF Installation guide for wall mounted waterfall kits: (888)-832-2242 
The Adagio Inspiration Falls wall fountain produces a peaceful sound that enhances the ambiance. Overall this is one of our more popular sellers as it is a great fountain for indoor use or outdoors under a covered area. Choose your look and feel. Order yours today.
Vertical Wall Fountain
*  30" Wide x 69" High x 6" Deep
*  EZ install bracket with mounting acessories included.
*  3-way pull chain allows you to control just the lights
   or the waterfall, both, or turn the water feature off.
*  Welded waterproof plastic liner water basin.
*  Adjustable copper water distribution unit system doesn't
   clog.
*  Single cord plugs into the wall and is easily concealed
   behind the water fountain with a 90 degree plug.
*  Durable powder coat finish on all painted metal trims.
*  Fully self-contained. No water lines. Permit not required.
Included with evey order:
*  Hardware kit to mount to sheetrock or drywall (must screw into studs)
*  Halogen Lighting and 4 bulbs
*  Polished River Pebbles (optional colours - email for info)
*  EZ Installation DVD and printed instructions (Also available online)
*  Electric fountain water pump
Weights:
Water Surface Hanging Weight - Shipping Weight
Slate 255 lbs - 270 lbs
Marble 255 lbs - 275 lbs
Travertine 255 lbs - 275 lbs
Mirror 130 lbs - 200 lbs
FeatherStone 100 lbs - 165 lbs
Weights are approximates. Due to all stones being natural, they will vary in weight.
MADE IN THE USA 


Feature Material
Black FeatherStone
Black Spider Marble
Bronze Mirror
Green FeatherStone
Green Slate
Magnifico Travertine
Multi-Color FeatherStone
Multi-Color Slate
Rainforest Brown Marble
Rainforest Green Marble
Silver Mirror

Feature Trim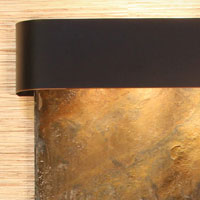 Blackened Copper
Rustic Copper
Stainless Steel

Trim Edge


Rounded
Squared

info@waterfallnow.com
---