Fountain Customization
Custom Fountains can be customized to any size shape or dimension. Email drawings to info@waterfallnow.com or request a quote for design services.
Want to add a personal slogan or corporate logo? Request a free quote info@waterfallnow.com
Semi-Custom premade fountains can be modified to fit the style of your decor.

Email info@waterfallnow.com for best results and free consultation to help you choose the best solution for your needs.
Black FeatherStone
Black Spider Marble
Bronze Mirror
Green FeatherStone
Green Slate
Magnifico Travertine
Multi-Color FeatherStone
Multi-Color Slate
Rainforest Brown Marble
Rainforest Green Marble
Silver Mirror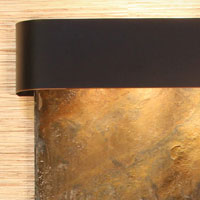 Blackened Copper
Rustic Copper
Stainless Steel
Rounded
Squared